Pharmacy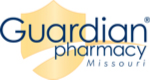 Business Description:
Guardian Pharmacy of Missouri is a locally owned long-term care pharmacy serving the state of Missouri. We are committed to developing long-term facility partnerships which advance pharmacy services through efficiency, safety and results.

Business Description:
With multiple locations throughout the state, Health Direct Pharmacy prides itself in leading the industry for pharmacy solutions. Our customized & community focused partnerships allow us the flexibility to stay ahead of industry changes. This added-value partnership is in high demand & Health Direct believes it should be industry standard. After all, our greatest achievement is the ability to help our partners focus on what truly matters most….their clients & community.