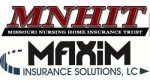 Business Description
MNHIT is the largest most experienced self-insured trust for health care facilities in Missouri. Together with our third party administrator, Maxim Insurance Solutions, LC, we can provide a wide variety of insurance products, including insurance products and risk management services.

Business Description
Rich & Cartmill Insurance offers special programs with pricing and coverages tailored to special sectors of business like long term care facilities. A full line of coverages such as package policies, workers compensation, commercial auto, and umbrella liability are available.