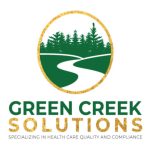 Business Description
Green Creek Solutions a woman owned- RN/DON operated company. We have encompassed all things needed into our company to be the premier choice.
We offer an array services LTC to help improve care of the elderly.
QA services: With expertise with over 30+ years of healthcare. We have taken our combined expertise of zero deficiency surveys, yes even during the pandemic, and increasing 5 star ratings and poured our hearts and knowledge in to helping mitigate concerns in the LTC setting before the citations and fines.  C.N.A/LIMA/CPR Education: we offer C.N.A education inside the community with complete set up and state approved curriculum. We offer LIMA classes and host CPR training. We believe everyone should have the opportunity to learn how to save a life.  Staffing - We offer only interim staffing solutions as we want our staff to become a part of the team. As Leaders in LTC we understand the importance of accountability. That's why we are only interested in offering our staff who are trained to that specific communities policies and procedures before they enter the community. We understand Quality over Quantity.

Business Description
Staff Development Solutions offers all required state approved certification courses, administrator study courses, and administrator CEUs. We make your staff training affordable and convenient.